Moments spent with my favorite people in the world are priceless. It feels great to bond with friends over yummy foods but nothing feels more celebrated and wonderful than to dine out and bond with your family. Since my Papa passed away last March, my sister and I made it a point to treat my mom out as often as we could. Actually, since the day I got my first paycheck, I've always wanted to do this for both my Mom and Pops, but Papa was too sluggish to join us then. Perhaps because he's already having a hard time with his illness that's why he preferred our special family dinner to just be spent at home.
Anyway, so me and my sister befuddled the normal office day of my mom yesterday with a call, begging her to leave early in the office and join us in our feat to celebrate Friday madness with a yummy dinner. I was also a bit panicky since it's already mid-November and I'm not even hitting one-fourth of my Christmas shopping list. So I decided to lure them to go with me to Tiendesitas and at least drop by at The Grove to check out the SuperSale Bazaar there. I was really hoping I could get another pair of Suelas or buy my mom a pair at a very low price since they're up to 70% off in that bazaar.
Almost two hours after, we arrived at Tiendesitas. Few strolls after and my mom and my sis got for themselves a pair of flats. Pity me 'cause as much as i want to indulge myself that night, the worries about my Christmas list is quaffing me whole so I just decided to spend the money I brought that night to buy Christmas gifts for my 'inaanaks.' Happily, I was able to buy some stuff at a very reasonable price:-)
And now, the actually-my favorite-but-I-don't-like-the-calories moment finally arrived. After rummaging through the sale and going from one boutique to the other, we decided to head on to Mom and Tina's Bakery Cafe. I've been hearing and reading a lot of yummy things about it that's why I was so perked up to give this resto a try.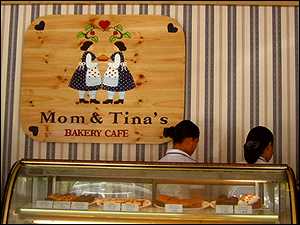 Immediately after I saw the fresh from the Christmas story book look of the resto's facade, I fell in love with it. It was like I could feel that very moment that I'm going to enjoy my stay there. Off we went in. If from the outside, Mom and Tina's looked like it was photographed from a Christmas story book, wait till you get inside. The place is very cozy and laid-back, like you are suddenly toted to the animated cosmos of Cafe World or perhaps, being carried inside the dainty Gingerbread House. Picture this: sunny Sunday mornings spent with your family; Dad is reading newspaper by the veranda, Mom is baking a delicious goodie in the kitchen, your brother and sister playing together in the sala, and you're reading a feel-good book by the corner window.
(Photo courtesy of DessertsComeFirst)
I would love to sit in one of the printed stripes couches but they're all occupied so we just settled on one of the corner tables. The cheerful waiter handed us the menu which I find cute since it's printed on a Papemelroti stationery or some Earth-friendly paper which I find so novel. Mama ordered for meaty spaghetti (P125) which is kind of usual, but it's her taste buds anyway. My sister got Chicken Alexander (P160) while I went for Chicken Spinach Lasagna (P150). Since all three of aren't afraid of diabetes attack, we immediately ordered the bakeshop's signature desserts and asked the waiter to serve it and the pasta all at once. We ordered Sanzrival (P50), Oreo Cheesecake (P125), and Toblerone Walnut Torte (90).
The Menu
The Chicken Spinach Lasagna
The Meaty Spaghetti
The Chicken Alexander. This photo doesn't actually look appetizing but it's superbly good:-)
When we got our orders, I was a bit dismayed when I saw the small serving. When I started indulging myself in the yummy goodness of my Chicken Spinach Lasagna, I realized you should not really judge a book by its cover--or in this case, a porridge cup. Really, I felt so full and bloated after I finished eating the Lasagna. I think at least 2-3 people could share in one serving of Mom and Tina's pasta. It's just too full and tasty that you will need a helping hand eating it:-) By the way, all pastas are served with garlic bread rolls which taste good, too:-)
It's actually a different story with their desserts. I think I could eat the entire piece myself and there's no way I would be needing a helping hand on that, especially with the Sanzrival. All three cakes we ordered were delightfully good but my taste bud voted for Sanzrival as the best. Some cakes come in regular or large orders but I suggest you go for the regular size if you want to try on their other cakes.
Toblerone Walnut Torte
Oreo Cheesecake
The Sanzrival
I am definitely coming back to Mom and Tina's! I would love to try out their French Vinaigrette and the famous Shepherd's Pie plus the Philly Cheesesteak Sandwich. And of course, I would definitely hold a DON'T MIND ABOUT DIABETES day when I go back there and order Caramel Profiterole, Mango Walnut Torte, White Toblerone Walnut Torte, Baked Oreo Cheesecake, and whatever sweets I'd love to gorge on at this bakeshop.
Sweet moments with two of my favorite people spent in the cozy corner of Mom and Tina's Bakery Cafe:-)
Mama and Shyn
Yours truly with my beloved Mama:-)
And oh, by the way, we weren't able to go to The Grove anymore since the bazaar is only until 10pm. We finished eating quarter before 10 so we decided not to go anymore since we only have 15 mins left to shop or at least check out some items and that's so bitin. Maybe next time:-)
********************************************************************************
Mom and Tina's Bakery Cafe is located at:
*
Perea corner De La Rosa, Makati City
Telephone: +632 894 3598, 840-4299
* 106 E. Rodriguez Jr, Avenue Ugong, Pasig City
Telephone:

+632 571-1540 to 41, 914-0833